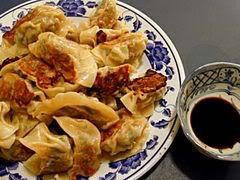 Photo by David Vasquez
Gyōza or, Jiaozi in Chinese, is a pan-friend dumpling that is served in Japanese & Chinese restaurants in Japan. Let's not forget that they're in the grocery stores too. You probably have seen them on menus as potstickers as well. Recently, I have been craving these dumplings like none other. Stuffed with pork, chicken or veggies, these things are fantastic with a sweet chili sauce or a light soy sauce. I have seen them devoured with a spicy mustard too. What is so great about these dumplings? The flavor. The pan-seared crisp outside. The amazing veggie to meat combination. I am trying not to drool as I type. I actually have pictures of these dumplings on my screensaver to remind me of the goodness Japan has to offer. I didn't discover gyōza until I arrived in Japan and a friend ordered them. They are bliss and I want about 12 of them to eat right now!
If you want to read up more about gyōza check out the sites below. Let me know if you make them. I WILL be right over!
Wikipedia:
Jiaozi/Gyoza
Random blog:
Is My Blog Burning? Gyoza dumplings